Learn more about David Reinecker…
David Reinecker- Dog Behaviorist and Dog Trainer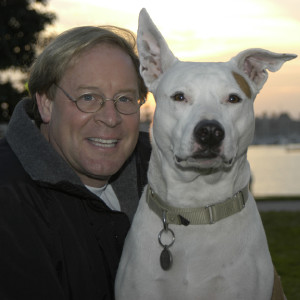 Overview
David has run a successful veterinarian-referred private practice in California for the last 33 years. As a pioneer in the Holistic Dog Behavior Counseling field, he was the first dog trainer and behavior specialist in United States to integrate diet and fitness programs with behavior training during the 1990′s. He offers an effective, eclectic, and humane approach to dog obedience and behavior modification.
As a trained dog behavior expert, David Reinecker provides help to puppies and dogs with a wide range of behavioral complaints including but not limited to severe aggression, hyperactivity, obsessive compulsive disorders, fears, phobias and anxieties. Learn about David Reinecker's dog training philosophy
Education
David Reinecker received his education at California State University, Sacramento and completed additional coursework in psychology at UCLA. He acquired part of his training as a Specialist in Reducing Aggression in Dogs from the late John Fisher, a noted British behaviorist. Most recently, David completed the Solving Canine Behavior Problems program at Cornell University, College of Veterinary Medicine in Ithaca, NY.
As part of his continuing education he has also completed numerous courses, seminars and special studies in canine nutrition, canine genetics, hyperactivity disorders, stress management, animal behavior, canine communicative and social behavior, dog behavior assessment and consulting.
David Reinecker Photos
A Unique Training Approach
David has spent more than 30 years developing creative and intuitive abilities with dogs and teaching others to find their own ways to communicate with their pets. His approach focuses on helping people with learning disabilities to develop strategies for implementing easy-to-follow steps to improve their dog's behavior. Read more about learning disabilities and dogs
David Reinecker
Dog Trainer and Behaviorist