David Reinecker client reviews. If you wish to write a review, please use the link below.
Average rating:
29 reviews
May 29, 2017
David is amazing! He successfully tamed our three fearful, loud and sometimes leash aggressive rescues and taught us how to handle the dogs so that they (and we) remain calm and quiet. All three of our dogs are now a pleasure to walk and are quiet and well behaved in the house. David's skills speak for themselves – as several neighbors who knew the "before" dogs have asked for David's phone number after witnessing the "after." David has calmed and simplified our lives and we saw immediate changes in our dogs during our first session. We strongly recommend David.
Apr 4, 2017
Success at last
We had David for the first and most likely last time. He was so amazing with our dogs, 12 and 9, with behavior that is long standing, and he was able to turn them around on the spot. He also gave us such useful and practical info on dealing with them. He is a LOVELY guy with the kindest heart and personality. I'm thrilled to have had a chance to work with him.
Mar 5, 2017
Intuitive Training
David's method, style and training delivery is intuitive and perceptive. His skill includes the ability to observe both the dog/human interaction and the complexities of the environment in which that occurs. From that assessment he is able to subtly intervene to achieve the goals of the human and the need of the dog. His assistance to me and my somewhat stubborn terrier was quick and effective. He works hard to get the results, but he makes it look easy. I would recommend him to anyone.
May 1, 2016
We Love David!
We just saw David again after 10 years. We initially saw him for training our 10 week old puppy Daisy. This was after hiring another trainer who spent 45 minutes lying on our living room floor in the fetal position in an attempt to "not intimidate the puppy" and after consulting with "Uncle Matty" who said we should either pay him $1500 to train Daisy or we should euthanize her (based on my report that her mother and father were aggressive--Daisy was born at a shelter and then transferred with her litter mates and her mother to a rescue where we met the whole family). There are some real quacks out there.Luckily, I found David Reinecker. Things went great with David. I think we only had one or, at most, two sessions with him. Daisy has been a perfectly behaved dog since.About 6 months later, we adopted another rescue dog, Teddy. This one was a year old and was extremely fearful. We had two small children at the time and were worried Teddy might be a fear biter. We called David to evaluate him for aggressive tendencies. David confirmed that Teddy was fearful, but said he would never be aggressive. We put Teddy down last year and in the 9 years we had him, with lots of children coming in and out of the house all the time, Teddy was never aggressive with anyone, and he eventually got over his fear. David said he'd be a great family dog and he was.We just adopted a 1 year old Boxer from Boxer Rescue LA. Bunny had never had any training so we called David. He remembered us after all this time and came out to the Valley to see us. He engaged the whole family in the training--myself, my husband and our two girls, now 17 and 14. We all love David. He is one of the most intuitive people I've ever met. He cannot only read dogs, but he can read people just as well. He is a smart, hilarious and a kind human being who is able to work magic with dogs. It was great to see him again. Despite the fact that he's super busy, he has never rushed us. He always stays for longer than we pay him for and his personality makes the process so much fun that we wish he would stay longer--not because of the dog, but just because we like him. He doesn't try to get money out of you by insisting or even suggesting more sessions. In fact, he told us we didn't need a second session with Bunny, even though we would have gladly done it. His goal is to teach you what you need to continue training your dog yourself, not to make you dependent on him.Whenever we passed other dog owners on walks with Daisy and Teddy, they always commented on how well-behaved our dogs were and it was true. We are looking forward to the same with Bunny. Thanks David!
Apr 20, 2016
David is not a good trainer, he is the best!
I hired David Reinecker because our dog is generally well-behaved but she used to go through bouts of hyperactivity where we couldn't control her at all! She jumped on guests, tackled our niece and nephew, and bolted out of the backyard whenever the gate was opened. This last point brought me to my wits end. Last time she got out she almost got hit by a car twice and had to be physically caught to get her back home. My goal was for her to respond to our commands and recognize boundaries. Our former dog trainer was not caring and unprofessional. David had brought back the faith in me for my opinion on a professional service. I thank him greatly for his exceptional service.
Feb 5, 2016
Not just a dog trainer
Addendum to the review below: typo correction: it said " my tough diamond.." ; it was supposed to say: "diamond-in-the-rough"
Thanks,
Dr. Jenny Muller, psychiatrist in the LA area.
Jan 27, 2016
Much more then just a dog trainer
No words can express my admiration and respect for David for all he does with the dogs, and in particular with mine.
As we have our first meeting and discuss the current problems, I watch him unobtrusively observe the interactions of the entire household relationships, which includes a total of 8 animals.
He identifies immediately the dynamics of the family.
As he hones in on the issues at hand,he wastes no time in expertly and gently handling the animals. But not without his pervasive sense of humor, dynamism and complete involvement with , and of, the person present also.
He has helped me with an out of control chocolate lab pup many years ago, with genuine care, determination and his unique expertise.
Now in the present he gets to work on a new rescue terrier pup with separation anxiety, and who is harassing my ill senior chihuahua as well as many of the other susceptible animals.
In very little time he is literally rescuing our little family once again in his amazingly empathic handling of both people and animals.
I am in awe as he expertly, deftly , carves out of my little tough diamond, a gem, involving me in the process, as he hands me over my precious gift.
A huge thank you to David for coming into our lives at the exact times you were our last hope.
Jan 23, 2016
Patience, Leadership and Kindess
Last July Ernie, a 60 pound pitbull, found me while he was panicked and running down the street with 10 pounds of chains around his neck. 4 months later after he had neck surgery, he was sprung from the shelter and into a foster home where he was able to heal from a a fractured femur. Geesh what a sweet hot mess. Once he decompressed with the BEST FOSTERS EVER it was time to get some serious training. We were all leaving town for a month so we thought to send Ernie to a place for socialization and basic training. Mistake! We got a skinny, untrained, apparently "difficult" boy back and thought...what have we done? David to the rescue!!! In one home visit he showed us what WE needed to do to help this dog thrive! 2 weeks later, Ernie walks 90% better on leash, has a new dog best friend that he walks with and who also shows him the ropes with how to be a dog...socialization...YES!!! Life is GOOD for Ernie now and it can only keep getting better. Thanks David you truly saved the day!
Jan 20, 2016
Got the results I wanted
I was simply amazed as to how David worked so quickly in taming my adopted mutt. She had been biting my hands and arms since the day I got her. David established boundaries that helped make my dog realize that she could get more love when acting appropriately for me. David is a true dog whisperer, he has obvious insight and respect for dogs and his attitude is contagious.
Nov 2, 2015
First class dog training
What a fantastic experience, from the moment David arrived to my home, I knew everything would be okay. My dog is an old rescue who used to lunge at people and other dogs while on walks, scratch walls when left alone, bark and charge the front door when the doorbell rings and jump on furniture. All those problems are gone. David listened, asked intelligent questions and made good, practical suggestions.

David is professional, knowledgable and so personable - I felt like he was an old friend who you can trust. His fees are also very reasonable for the quality of service provided. My only complain: it is true that he is very busy and sometimes you have to wait for an appointment.
Testimonials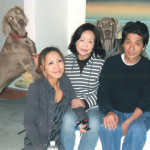 I never thought I will be taking care of two large Weimaraner all by myself. They are still puppy, very curious and rambunctious. They are my sweet and adorable children. I was living with boyfriend, We both used to take care of our dogs. We were happy. But sometimes unexpected things happen in your life. It happened to me all the sudden. I needed to decide moving out his house with dogs. I was very nervous and scared. I wasn't sure if I can find a house with big yard, leaving dogs all day while I am at work. Big thing is they never be left alone home all day. They have separation anxiety. I found new place. I spent for a month to dog proof the house. Since my dogs are young, they are very excited about new place. They tried to jump on walls and dig the holes under the fence. I started worrying about they may escape and never come back again if I left home all day. So I called David Reinecker. I trust him. He will fix the problem. On previous session, he changed my super stubborn dog to such a sweet, well-behaved dog. He can do the magic again. I know he is the only one I can rely. My parents came to help me moving all the way from Japan. David included them for the training session. We all participated the session. He educated us how to solve the problems. It was a wonderful time and really encouraged me. We worked on the problem very hard. Now a month later from the lesson, we are all happy and enjoying new life. Dogs respect my time away from home and wait for me all day. Problem solved. I feel very fortunate that I found David. He saved us. I just want to thank you for giving us such a high quality lesson and thoughtful effort. We are very very happy. You are very sweet person with big warm heart. My dogs also love to see you always. In every lesson I learn something from you beyond dog training. My life with dogs is now wonderful. Again, thank you very much for making our lives happy! You are the best! – Madoka, Panzer & Ilsa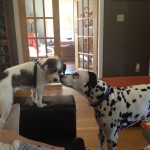 So we saw David Reinecker in early July to help us with Cooper being better around other dogs. We are a week into our 2 month tour of family and friends. So far Cooper has stayed in 3 different hotels, ridden 3 busses, taken a gondola to the top of Mammoth mountain and had lunch on a few patios. We are in Canada now (Cooper has gone international!) and staying with friends who gave a terrier dachshund mix. We NEVER thought Cooper would have a dog friend. But the proof is in the photo. THANK YOU! – Jim Kehl
 Contact David Reinecker today!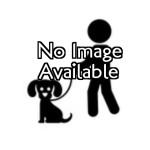 In January of 2004, we brought two 7-week old German Shepard puppies to share our home with our 9 year-old Golden Retriever/Chow Chow mix. Add into that equation a 4 year-old little boy and a 7 year old daughter, and you can see that we had our hands full. It became apparent quite early on that we had taken on a lot. The puppies were so cute and grew quite quickly. The turning point in our training happened one day when we were at the vet for shots. The vets office was particularly busy that day with dogs and cats everywhere. While we waited for our appointment, we could not get our dogs to stop barking. They were so distracted by all of the other animals they would not listen to us. We were mortified when the vet staff asked if we could wait outside until they were ready for us. Our vet recommended David Reinecker. She said that our German Shepards would be very large and getting them in control now would be a very important part of their training. We called David and after talking with him signed on for classes in our home. Immediately during our first "class" we saw a dramatic difference. Our dogs were listening to us. We worked on listening, watching, walking, sit, stay, down, etc. The big test came when the dogs were due back at the vet for their next shots. We knew they were listening much better to us, but we weren't sure what would happen when they were distracted. The vet's office went perfectly. In fact, the vet staff asked if they were the same dogs! David has continued to work with us over the years as challenges arise. Today the puppies are 3 and half years old and weigh 125 lbs and 95 lbs. Our Golden is 60 lbs. Keeping 280 lbs of dogs in line requires a great teacher. We couldn't have done this without David. He is a truly a dog owners best friend. Warm regards, – Steve Andavolgyi & Kuuipo Cashman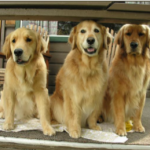 Dear David,
I just wanted to thank you for the amazing difference you have made in our lives and the lives of our
Golden Retrievers. I'm so glad we found you when we did to help in the behavior training and management of our then two 1. 5 year old Golden pups. They were becoming the school yard bullies with other dogs and their playful wrestling with each other landed me in the emergency room for trying to break up a sibling 'tiff'. Needless to say, with your boundary training through positive reinforcement and helping us to understand how to communicate and build a respectful, loving relationship with our dogs, they are evolving into fine young Goldens…and role model citizens for other dogs. You are the real deal David. Thank you for the great work you do on behalf of all dogs that need a helping hand in their journey here on earth. – Denise Buczek